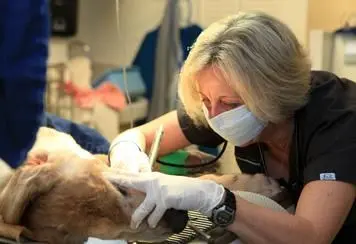 More than 80% of all pets two years of age or older have some form of dental disease.
Dental disease is a gradual process. It is caused by bacteria that can be life-threatening by entering your pet's bloodstream and damaging the internal organs.
Periodontal disease destroys the gums and the teeth attachments to the jawbone. It causes a lot of pain, particularly at mealtime, and eventually results in tooth loss. Bad breath and buildup of brownish material on the teeth is the first sign your pet has periodontal disease.
It is important that you start your pet's dental care early in life. Once periodontal disease begins it will require more frequent attention and can be more costly to treat.
During your pet's examination the doctor will evaluate your pet's current dental and overall health and find the right dental plan, which should include regular professional cleaning at our office along with proper home dental care.
We recommend you use only toothbrushes and toothpastes designed for your pet's teeth and gums. There are also many tasty dog treats that will help keep his or her teeth cleaner, preventing excessive plaque and tartar build-up.
By taking care of your pets' teeth, you can enhance the quality and longevity of their lives.