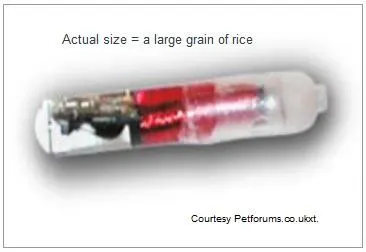 In addition to your dog's rabies tag we recommend that dogs and cats also wear collar tags imprinted with their name and their home phone number so they could be more easily located when lost.
For added security for your pets we also recommend microchips. They are as tiny as a large grain of rice. They don't act as tracking devices but they will provide a permanent identification in case your pets lose their collars or the information on their ID tags becomes impossible to read.
Each microchip has an ID number that must be registered to your pet. They don't include any personal information, only your pet's unique number. If your pet gets lost and is taken to a vet clinic or animal shelter, your pet will probably be scanned for a microchip to reveal his number. That number will be called into the pet recovery service and you will be contacted using the contact information on file when you registered your pet's microchip.
Microchips don't have any moving parts that can wear out so they usually don't need to be replaced. They also don't require a power source.They are made of bio-compatible materials that don't degrade over time and will last throughout your pet's lifetime.